admin
Register your child now for a fun Holiday Science Camp created by Applied Biotech Nigeria using the WAEC and NECO syllabi. This summer, we'll partner with the Royal School of Educational Therapy Foundation for a FUN-TASTIC experience for all.
The Holiday Science Camp is for JSS1-SS3 students and will hold from 13th – 15th August, 2018.
Registration fee is only N15,000.
Space is limited. Pay at Fidelity bank Plc Acct # 5080054878. Call or email us today:
+234 909 624 8186,
+234 812 333 5820,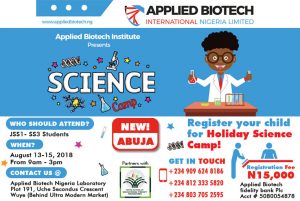 admin
Tap into our wealth of experience for your lab and equipment Supply.